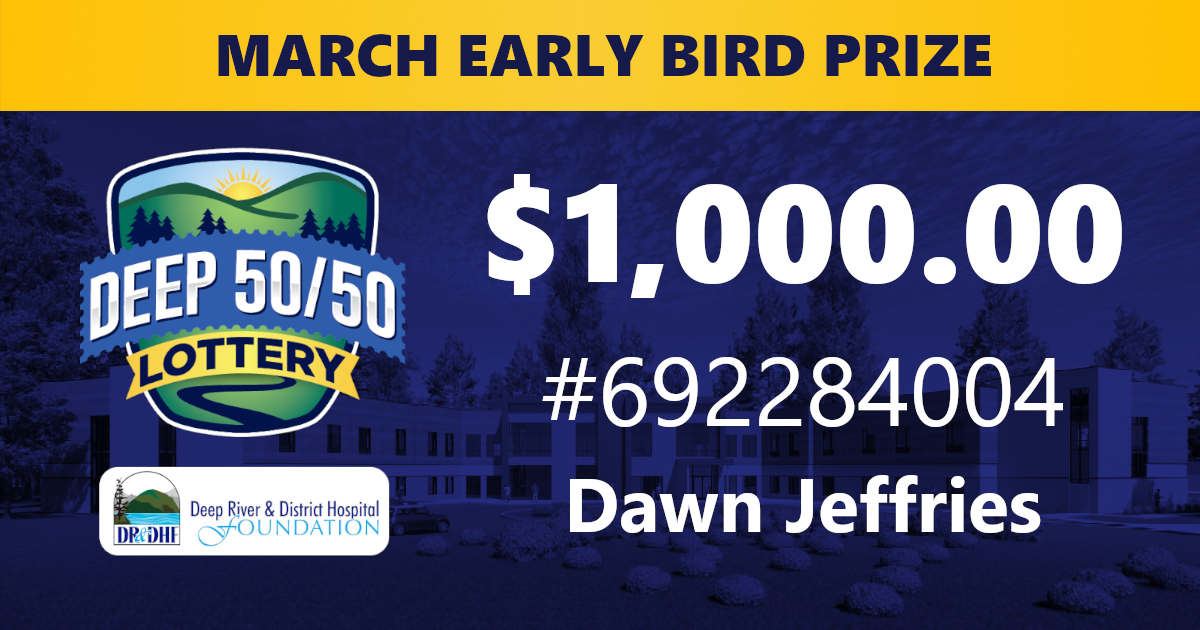 Mar 17, 2023
$1K March Early Bird Winner
Congratulations to Dawn Jeffries of Deep River... March $1K Early Bird Winner! She purchased the ticket at Jan's Valu-Mart this past Wednesday. Check out the total jackpot at
https://deep5050.ca/
and we still have two weeks left to make it bigger for the March Grand Prize. Thanks to everyone for the support.
Congratulations Dawn Jeffries of Deep River for winning our $1,000 March Deep 50/50 Early Bird Prize! She purchased the ticket at Jan's Valu-Mart on the Wednesday immediately before the draw.
If you'd like to support the March draw, please be aware that the Deep 50/50 online experience has now been upgraded. You are now able to support the Foundation with an easier check-out process and one-click purchasing for repeat supporters. Check it out at https://deep5050.ca. Or, stop by on Wednesday at Jan's Valu-Mart to purchase tickets in-person from 10am to 4pm, or make a shopping trip to the DRDH Auxiliary Gift Shop whenever it's open for another ticket purchasing option.
The Deep 50/50 lottery exists to raise funds and awareness for Closer To Home, a $2.5M campaign to help the Deep River & District Hospital build a 96-bed Long-Term Care Home. If you'd like to learn more about this project, please visit https://www.drdh.org/ClosertoHomeCampaign.
Thanks to everyone for participating. Tickets are still available for the March 30th Grand Prize draw. Good luck!