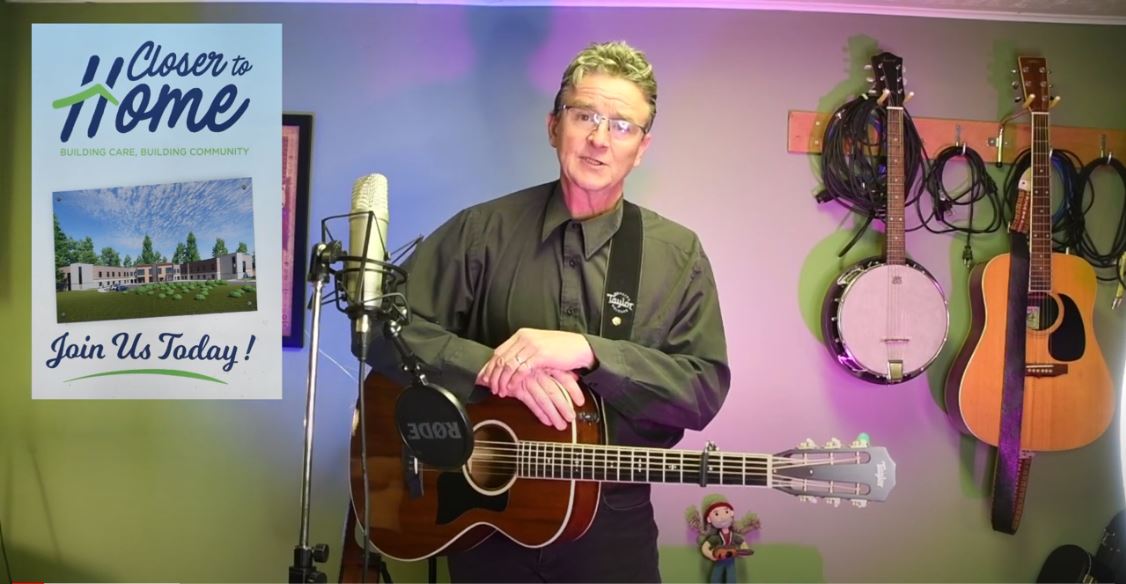 May 1, 2023
Marc Audet Releases Music Video To Support Closer To Home
Marc Audet, Local Musician: "Last June, a friend in Deep River asked if I could write a song about the construction of a 96-bed Long-Term Care Home in Deep River, greatly expanding the capacity for Long-Term Care in the North Renfrew area. This song could be beneficial to promote awareness of the project and to assist in an ongoing $2.5M fund raising campaign called "Closer to Home" that is being run by the Deep River & District Hospital (DRDH).
The friend making the request (Bill Bishop) spends a tremendous amount of his time volunteering for the community to benefit its residents, so writing a song to support the project was thought to be a great way for me to contribute. A few months later, a decent song emerged. Named "Close to Home", the song speaks to the virtues of small town living in a close-knit community, and how wonderful it will be that people requiring long term care will be able to access those care services without having to leave the area, remaining close to the network of friends and family as well as the wonderful aspects of the host community, Deep River.
In late August, the song was revealed to the Hospital Foundation at a fund-raising golf tournament. With very positive feedback from the Foundation (cheers and tears), plans were initiated for the formal recording of the song with local musicians and the production of a video with help from local photographers. The video includes intro and outro narrative segments to promote the project and to encourage people to participate through volunteering or donations/gifting.
The musicians assembled to develop song arrangements and to record are Alastair McDonald (piano), Karen Stephens (fiddle), Chelsea Cheng (cello), and Anne Audet (harmony vocals), supplementing my lead vocals, acoustic guitar, and hand percussion. We were very fortunate to recruit local sound engineer/producer John MacLean, who turned our recorded parts into a beautiful sounding song.
To build the video, local photographers Bob McElroy, Larrie Thomson, Dave Cox and Ian MacCready volunteered to provide photographs of iconic scenes of Deep River, supplemented with a few of my own topical photographs. Video segments of the music group performing the song were recorded by Anne Audet, and the Hospital recorded a video segment with Community Engagement and Fundraising Coordinator James Thompson briefly discussing the project. The resulting 6 minute video is a pleasing and informative portrayal of small town life and the benefits of expanded long term care services to the area.
It was wonderful engaging many creative, generous people to bring this song and video together to benefit such an important and beneficial health service project."
Thank you again, Marc!
If you'd like to donate towards the Closer To Home campaign and thank Marc for his work, please visit this page.
---
Close To Home Lyrics:
A lifetime in, this quiet town
The friendships made, the pleasures found
The beach sand drags, as I slowly walk each way
Friends I see, friends they wave
A smile, a nod, goes a long long way
This town is home, it's still much the same
With winding streets and backyard lanes
This place is me, I can't explain
It's good to know these things don't have to end
Cause I'm, going to be, close to home
That place to be just down the road
It's going to be my new home
The winters come, with snowbanks tall
Bundled warm, don't slip and fall
But March brings in, that long warming sun
The garden's ripe, with food to spare
This love of life, it what we share
Those decades pass, like the silent depth of snow
A lifetime in this quiet town
The place is me, I have found
It's good to know these things don't have to end
Cause I'm, going to be, close to home
That place to be just down the road
It's going to be my new home
A lifetime in this quiet town
The friendships made, the pleasures found
It's good to know these things don't have to end