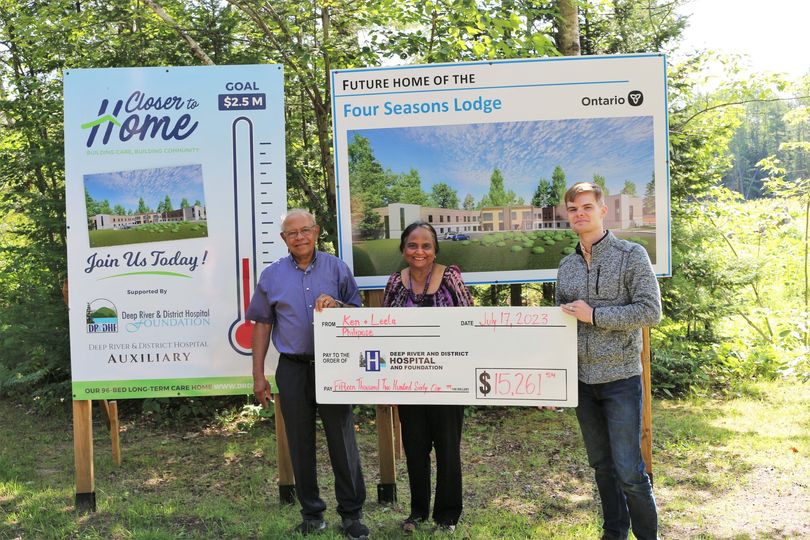 Jul 21, 2023
Philipose Family Donates $15,261 to Closer To Home
Special thanks to Ken & Leela Philipose for their recent donation of $15,261 to the Closer To Home campaign to help build a 96-bed Long-Term Care Home in Deep River!
Here's what Ken had to say:
"My wife Leela and I immigrated to Canada and have enjoyed living in Deep River for close to 40 years. I came to Canada in the nineteen sixties to do my Masters Degree in Engineering. Having lived in Montreal and then in Toronto before, we were happy to find that in the town of Deep River, the activities we loved were all within a short drive. We played tennis, cycled, sailed, and took up cross-country skiing. Everyone was so warm and welcoming. We considered this an ideal place to raise our children.
We believe that the Deep River & District Hospital is the most important institution in our town. I am happy that I was able to serve on the Hospital Board for six years. Through this experience, I learned that the Ministry of Health does not provide funding needed to replace or buy new equipment essential for the hospital. We joined the donor group to help with this in 2018.
Of all the various attractions the town has to offer, we were most grateful for the Deep River and District Hospital and their caring staff. We are really excited about the 96-bed Long Term Care home to be built in Deep River. We believe that this facility is essential to take care of our aging community. This new Long Term Care Home will give the people who love living here, the option to continue living in this beautiful town.
However, this would also require a local fundraising effort of $2.5M. This is why we are committed to support the DRDH financially and otherwise and be part of the donor group."
Ken & Leela will join 36 other households, individuals, and companies on the permanent donor recognition plaque in the new home.
If you are interested in joining the Philipose Family and many others in supporting the Closer To Home Campaign, please contact us today to discuss options and ideas.
You can learn more about the Closer To Home campaign here: