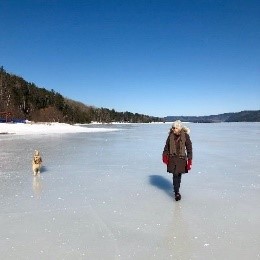 Nov 24, 2022
Why We Give: "My Husband Plays Hockey!"
"Steve and I moved to Deep River in 1986 and purchased our first home on Sumac Street a few years later, not far from the hospital. In 1989 our first daughter was born at the DRDH which still had a maternity ward at the time. In 1991, our then two year old, reached up and grabbed a travel mug off the kitchen counter (it was plastic and looked a bit like a "sippy cup"). Unfortunately, the mug was full of piping hot coffee and she spilled it down her front.
My husband doused her in cold water in the kitchen sink and then with a screaming child but no car, swooped up our daughter, ran out the back door down the forest path alongside McElligot Drive to the Emergency Department. They quickly assessed her and got her stabilized and into an ambulance to the burn unit at CHEO where she was treated. Fortunately, because of the quick attention she received, she has no lasting scars despite some fairly serious burns. Since those days over 30 years ago, our family has relied upon the expert and caring staff at the Deep River Health Campus on numerous occasions. Did I mention my husband plays hockey?
We have always received excellent and compassionate care. The presence of such a fine local medical facility with a 24 hour emergency room is as important to us today as it was to our original decision to live in Deep River… particularly since my husband continues to play hockey!"
Sue D'Eon, Mayor of Deep River
For #GivingTuesday 2022, we are celebrating with "Why I Give" stories from members of the community! Donors, volunteers, and supporters were asked: "Why do you support DRDH?" and the replies we received were inspiring and motivating.